100 Reasons to Love MSite
Today is Valentine's day, so we're giving you 100 reasons to love MSite! At MSite, our people are our biggest asset, and our culture reflects that, so everyone can turn up to do their best work, day in day out.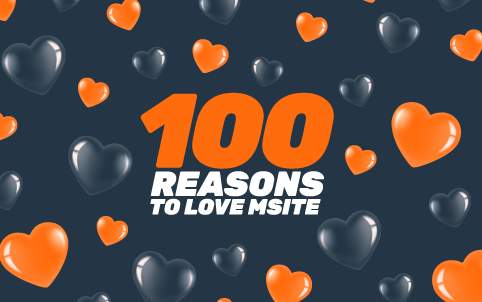 To celebrate Valentine's day we asked our 80 staff what they love about working here, here's what they said…
We're leading the charge in Construction Workforce Digitalisation.

We're a place of meritocracy.

We have over 1.4 million workers on our platform

,

...and have managed over 5000 projects.

We're backed by a Sustainable Private Equity fund, Summa Equity.

We're creating Construction's first Digital Workforce Hub.

We're part of the Infobric Group,

…who have 8 different business units,

…and are signed up the UN's Sustainable Development Goals.

Our vision is to be the leading technology company in workforce safety and productivity internationally.

You'll work with smart and personable people.

Our office is dog friendly




All our meeting rooms are named after the Beatles,

...and are kitted out with loads of cool tech.

We operate a hybrid working model.

MSite is the only workforce management solution that affords companywide data insights.

We have some cool perks.

We have an MPloyee Forum, where staff can raise any issues or suggestions regarding company culture and initiatives.

If you refer someone to work here, you get a bounty after their first month,

…and if they pass their probation, you get another bounty,

...with a maximum of £3000 up for grabs.

Hungry? We stock our kitchen with snacks and soft drinks every week,

...and tea and coffee

☕

…and on birthdays there's always cake because life's better with cake.

We have been working in Construction for more than 20 years.

We have colleagues in Sweden,

…and Norway,

…and Finland,

…and Liverpool, UK,

…and more locations coming soon!

The MSite Face Reader is construction's most widespread contactless solution and is helping reduce the spread of COVID-19.

We're committed to promoting a more inclusive and diverse construction workforce.

Every Halloween we have a pumpkin competition.




We have an Employee Assistance Programme.

Our Perkbox platform providing discount codes and wellness benefits such as,

...technology and electronics discounts,

...and skincare discounts,

...and vet care discounts

...and nutrition plans.

We have an electric car scheme,

…and a life assurance scheme,

…and critical illness insurance,

…and a cycle to work scheme.

We offer enhanced maternity/paternity/adoption leave.

We'll contribute towards your healthcare.

…and if you need an eye test,

… and if you need your teeth checking or filling,

...and if you need physiotherapy, osteopathy or chiropractic therapy.

We'll send you on external training courses to help you perform in your role.

Everyone has the opportunity to earn a 20% annual bonus.

We'll contribute into your pension pot.

Employees get 25 days holiday a year,

…with an extra day for every year worked after 5 years of service,

...up to a total of 28 days off,

…with bank holidays and national holidays,

…and you can purchase an extra 5 days.

We have team members across 6 different countries.

Our dress code is casual.

The work is fast paced.

We have a buddy scheme for new starters.

Every year, we throw a summer BBQ.

We'll contribute towards your gym membership.

We're Cyber Essentials Certified,

…and Cyber Essentials Plus,

…and a Microsoft Gold Partner,

…and part of the AWS Partner Network.

When you join, you'll get a welcome pack that'll include an MSite cap,

…and a water bottle,

…and socks.

Every year we have an awards and rewards ceremony to celebrate top achievers.

We're committed to helping our customers drive workforce productivity,

…and safety,

…and sustainability.

Our office is packed with plants.




...and has a ping pong table

🏓

We've constructed a detailed OKR performance network, so your path to promotion is clear.

Our customers influence the product.

Our Senior Leadership Team was implemented to inspire everyone at MSite and help them fulfil their potential,

…and are all very accessible.

We regularly praise the achievements of staff for everyone to see.

We work with the biggest contractors in the world.

We've known to host some pretty cool social events, such as escape rooms…

…and mountain treks,

…and, of course, nights out!

Our CEO & Founder is easily accessible,

…and maintains regular office hours.

Our CFO was voted Financial Director of the Year in 2021.




We collectively celebrate promotions.

We encourage employees to fail fast and think radically.

We regularly host charity events,

New to MSite? Have a lunch with your team on us.

We have a culture that welcomes new ideas, regardless of how junior or senior you are.

Our products help our customers meet their compliance needs.

We encourage input into the product roadmap.

Everyone has fortnightly catch up to check they're on track to achieve their OKR's.

We have very little red tape,

...and an open door policy.

We solve problems together and always ask why.

We have a company culture that promotes positive feedback.

And finally, we're growing faster than ever!
Thinking about joining MSite? Check out our open positions